You get outstanding roof prices
You receive Superior workmanship
The highest quality roofing materials
Serving Toronto and GTA Region
May 4, 2018
EMERGENCY ALERT
The GTA suffered a hurricane windstorm, clicking in at 120 km winds. This storm caused more roof damage than anything Toronto has ever seen since 1954 Hurricane Hazel which clicked in at 125 km/h All of the roofs we have installed over the years were put to the test and many of them suffered wind damage on this day other than Owens Corning Duration. With their sure nail/seal technology, they will seal to fabric and tar rather than rocks and tar. All of us roofers learned many lessons due to the storm see below: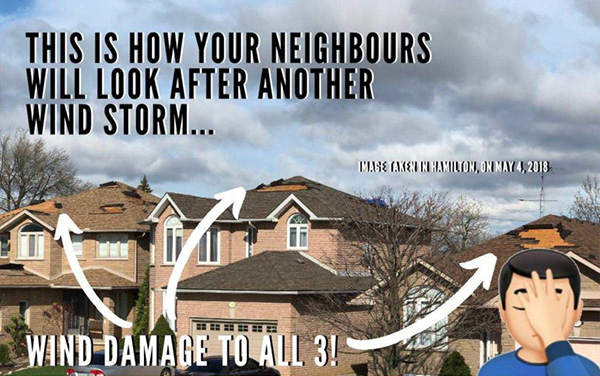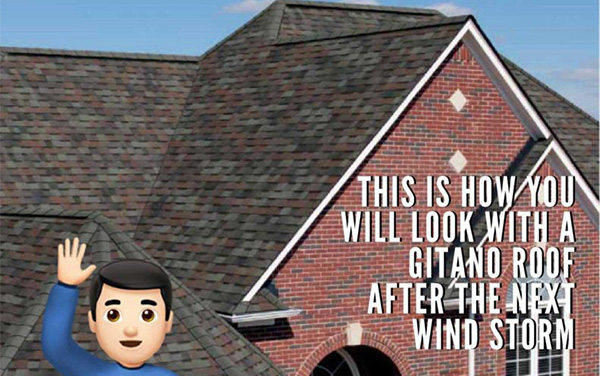 LESSON 1
Use OWENS CORNING DURATION Shingles
These are the only shingles that will seal to fabric rather than rocks for maximum wind protection. Their technology is patented so no other shingle companies can copy this.
LESSON 2
Use DuraFlo WeatherPRO 50 vents
We have witnessed thousands of regular roof vents blow off and get chewed off from raccoons and squirrels.
LESSON 3
Always close your valleys
A closed valley is more secure than a metal valley in windy conditions and it provides better protection from ice and wildlife at the same time.
LESSON 4
Always have tarps and a ladder on your property
Storing 2 tarps that are 20×30 and a ladder will allow you to be prepared to protect your roof and home against windstorm damage.
Can I Pick a Pay to do my Roof?
Due to Rain, Wind, Hot and Cold we would much rather give you a week window because one of these days can through off the entire schedule. Once the shingles are delivered on the roof we are usually there within a week and we do call a day before we start.
What makes your roof different from the Builder's Roof
We follow the same procedure the builders do when we install your roof, except for one thing: we put on a shingle that will NOT blow away.
How can I Book this Work to be done and what are the payment requirements?
Please fill out the requirements listed on the form and any additional notes in the customer notes section. Please take a picture of the form or scan it and email it directly to Gitanoroofing@gmal.com with any additional question. As for payment, we do not take a deposit and we accept a cheque or money order a couple days after the job is completed. We do not take credit cards simply because they charge 3 percent.
We are Expertise in Roofing
Don't hesitate to reach out to us anytime